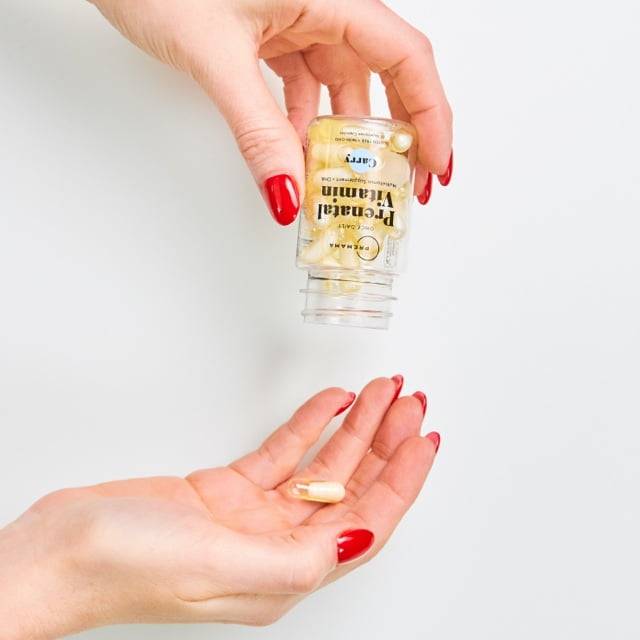 Description
We use natural peppermint to make Premama Prenatal Vitamin easy-to-take and easy-to-enjoy. Each bottle of prenatal vitamins with DHA contains a food-grade plastic insert infused with pure peppermint oil, so it smells and tastes better than your typical vitamin. Taking our prenatal pill is like having a mint!
Directions
Use before, during, and after pregnancy.

Take one pill daily, with or between meals.
Great for...
We don't use generic ingredients that are hard for your body or your baby to absorb. We only use premium nutrients including: iron, vegan-algal DHA, and Folate to support healthy growth.

Our patented, duo-capsule time-release technology gives you all the iron you need, with none of the nausea. Ensuring iron and other stomach upsetting ingredients (held in the inner capsule) are released later in the digestive tract, while omega-3 fatty acids are released in the most absorptive areas. Added bonus? You only have to take one easy-to-swallow capsule.
!
We recommend taking this Prenatal Vitamin at least 3 months before trying to conceive.
Key Ingredients
Your unique parenthood journey needs and goals are addressed with a curated selection of our ever-growing list of natural active ingredients.
Chelated
Choline
DHA Algae Based
Folate
*Do not use this product if safety seal on flap is torn or missing.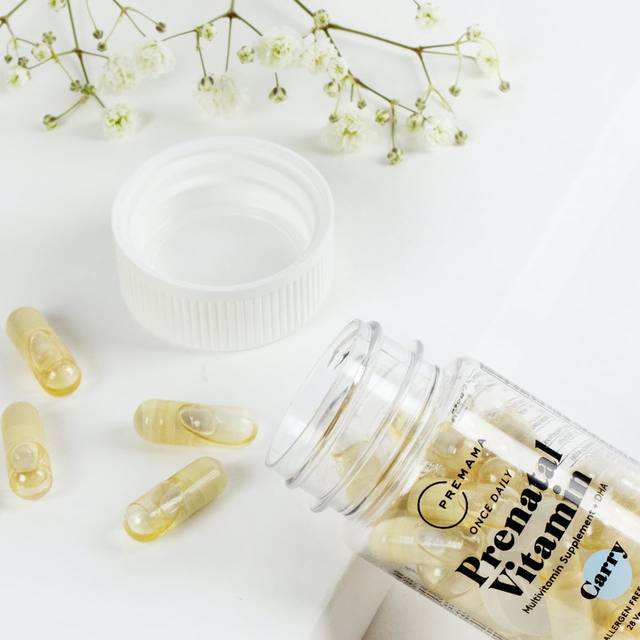 Pair Vitamins
for Better Results!
Our Prenatal Vitamin pairs well with Energy Boost to help maintain healthy energy levels. Energy Boost is safe for before, during, and after pregnancy.
Frequently Asked Questions
What is the mint-scented insert inside my Prenatal Vitamin bottle?
The food-grade insert inside your pill container is meant to remain to keep freshness and provide a pleasant peppermint scent. Please do not remove your insert to maintain the best experience while taking your prenatals.
What type of DHA do you use?
Prenatal Vitamin contains a compound called docosahexaenoic acid (DHA). DHA is a "good" type of fat called a polyunsaturated omega-3 fatty acid. This type of fat supports fetal brain development because it is an essential component of the myelin sheath, the fatty coating of nerves. DHA is usually found in the form of fish oil; however, Premama Prenatals are made with a plant-based source, to accommodate vegan mothers. Our form of DHA was developed by NASA and is a vegan algal oil. It's one of the only non-fish sources of Omega-3's + DHA on the market, and delivers twice the potency of the highest omega-3 containing species of fish.Think about it this way, we're going straight to the source that fish eat, rather than relying on fish to carry the nutrients to you.
What are the benefits of DHA in your Prenatal Vitamin?
Getting enough DHA during pregnancy can improve behavior, attention, focus, and learning in young children into adolescents. Other benefits of adequate DHA during pregnancy include: reduced risk of allergies in infants and a positive influence on immune development. Lower brain DHA levels are associated with cognitive deficits and increased behavioral indicators of anxiety, aggression, and depression in children.
Why do the Prenatal Vitamins contain a trace amount of peppermint oil?
Peppermint oil in conjunction with B12 helps to alleviate occasional nausea during pregnancy. This scent is comforting and provides a pleasant experience while taking your prenatal vitamin. We use a tiny, trace amount.
What does Duo-capsule technology mean?
This innovative technology contains a smaller pill capsule within an outer pill capsule. The inner capsule of this unique delivery system contains iron and folate absorbed later in the digestive tract, alleviating nausea and constipation associated with iron consumption. The outer capsule contains liquid nutrients such as omega-3's that can be absorped optimally earlier in the digestive tract.
For more information, visit www.capsugel.com.
Why do you use Folate in your Prenatal Vitamins?
Folate provides protection against certain birth defects and is required for synthesizing and repairing DNA, proper cell division, and healthy production of red blood cells (preventing anemia and related conditions). Methylated folate is the most absorbable type of folate available. This ensures you and your baby get the benefits of folate, which includes protection against neural tube birth defects.
Do you have iron in your Prenatal Vitamins?
Yes, we do. The amount of blood in a woman's body increases during pregnancy until they have almost 50 percent more blood than usual. Pregnant women need extra iron to make more hemoglobin. Iron is especially important in the third trimester when baby starts drawing more from mom. The added bonus of Iron helps to prevent anemia. We use gentle Iron because it helps promotoe absoprtion in a woman's body and it helps support relief from occasional constipation and nausea due to pregnancy.
Can I take Premama Prenatal Vitamins while trying to conceive?
Yes, we recommend taking our Prenatal Vitamins for at least three months before trying to conceive. You can read more on this here:
Should I take Premama Prenatal Vitamins after my baby is born?