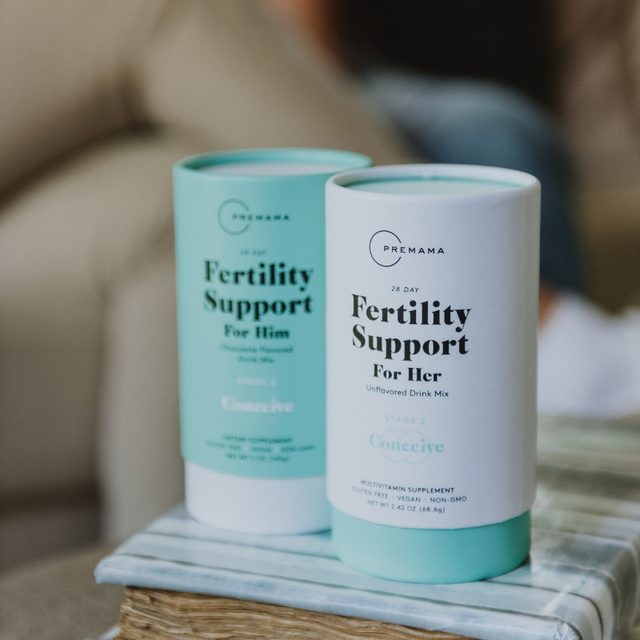 Description
Fertility Support For Her is an unflavored drink mix that provides natural reproductive support for women trying to conceive.* It's the #1 selling fertility-enhancing supplement.

Fertility Support For Him is a chocolate flavored drink mix formulated to support male reproductive health and improve sperm quality, motility, morphology, and function.* You can easily add this natural fertility product to your favorite yogurt, oatmeal, or protein shake.

Prenatal Vitamin is a once-daily, easy to swallow prenatal multivitamin with all the good stuff. You'll get your full quota of premium ingredients including Folate, gentle Iron, vegan-algal Omega-3's + DHA, and all additional essential vitamins and nutrients you need.*
Directions
Fertility Support For Her: Mix one packet per day with at least 12 ounces of water or your favorite non-carbonated beverage. Take Fertility Support for Her consistently while trying to conceive for at least 3 months (or keep taking it until you become pregnant). Once pregnant, continue with Premama Prenatal Vitamin. If your cycle is regular, begin on day 1 of your cycle. If your cycle is irregular, begin right away or at any point in cycle.

Fertility Support For Him: Mix one packet per day with at least 12 ounces of water or any non-carbonated beverage (or smoothie, yogurt, etc.). Take Fertility Support for Him for 3 months (the time required to nurture new sperm to maturity), or until conception occurs.

Premama Prenatal Vitamin: Take one capsule per day, with or without a meal.
Great for...
Fertility Support for Her contains Myo-Inositol to help your body use insulin effectively, to restore ovarian function, and regulate your menstrual cycle to promote conception.*
Fertility Support for Him contains vitamins C and E, and zinc to increase the ability of sperm to move efficiently.* It also contains a blend of vitamins and herbs including maca root extract and EGCg (green tea extract) to increase male libido, sperm count, and strength.*
Our Prenatal Vitamin has a patented, duo-capsule time-release technology gives you all the iron you need, with none of the nausea.* Ensuring iron and other stomach upsetting ingredients (held in the inner capsule) are released later in the digestive tract, while omega-3 fatty acids are released in the most absorptive areas.* Added bonus? You only have to take one easy-to-swallow capsule.
!
"Create a morning routine with your partner, taking turns making delicious breakfast smoothies that include your drink mix vitamins!"
Key Ingredients
Your unique parenthood journey needs and goals are addressed with a curated selection of our ever-growing list of natural active ingredients.
Chelated
Choline
DHA Algae Based
Folate
*Do not use this product if safety seal on flap is torn or missing.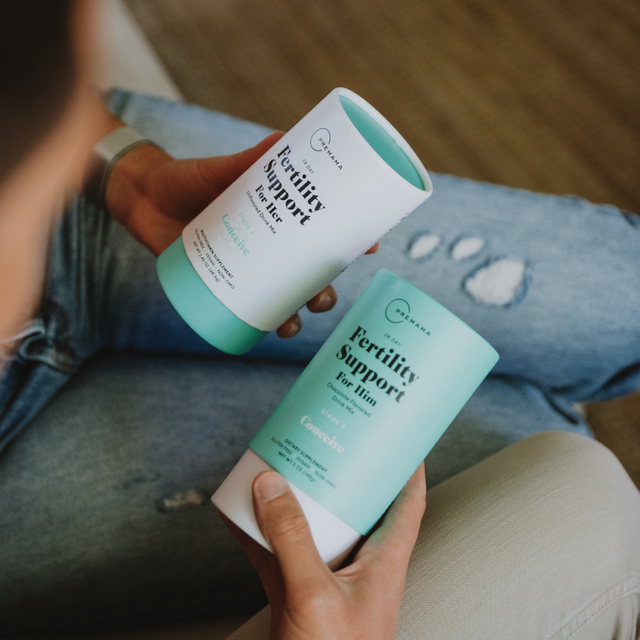 Pair Vitamins
for Better Results!
Our Dual Fertility Bundle pairs well with our Pregnancy bundle as doctors recommend taking a prenatal vitamin at least 3 months prior to conception. It is also recommended to limit the amount of caffeine consumption while trying to conceive, Energy Boost is a great alternative.
Frequently Asked Questions
When should I start taking Premama Birth Control Cleanse?
Premama recommends taking Birth Control Cleanse on the first day of your menstrual cycle. Should you start at a different point, it is not harmful.
How long should I take Premama Birth Control Cleanse?
Premama Birth Control Cleanse should be taken for 28 consecutive days.
How does Premama Birth Control Cleanse work?
To learn all about how our cleanse works, check out this blog post.
Can I take this even if I am not trying to get pregnant just yet but still want to balance my hormones coming off the pill?
Yes, you sure can! Premama's Birth Control Cleanse is designed for all women looking to balance their hormones after coming off birth control.