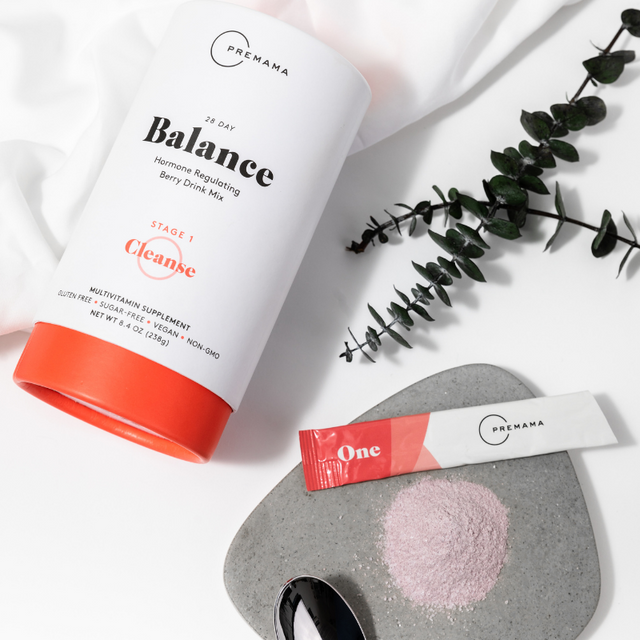 Description
Balance is a berry-flavored conception aid drink mix designed to prep the body for pregnancy by balancing hormones and stimulating uterine health.* It nourishes, supports, tones and gently cleanses the liver and uterus; helps regulate menstrual cycles; and restores the body's natural balance by removing excess hormones.* Think of it as a way to reset—your first step once you've stopped taking birth control or if you are experiencing a natural hormone imbalance.

Fertility Support For Her is an unflavored fertility drink mix that provides natural reproductive support for women trying to conceive.* It's the #1 selling fertility-enhancing supplement.

NEW: As of March 2021, Fertility Support For Him is now chocolate-flavored in this bundle!

A fertility drink mix formulated to support male reproductive health and improve sperm quality, motility, morphology, and function. You can easily add this fertility aid supplement to your favorite yogurt, oatmeal, or protein shake.
Directions
Balance: If your cycle is regular, begin on the first day of menstruation to help you track your cycle and plan for ovulation. If your cycle is irregular you can begin at any point. Mix one packet per day with at least 12 ounces of water or any non-carbonated beverage (or smoothie).

*Note that this product is a cleanse, and not a meal replacement.

Fertility Support For Her: Mix one packet per day with at least 12 ounces of water or your favorite non-carbonated beverage. It's recommended that you take Fertility Support for Her consistently while trying to conceive for at least 3 months (or keep taking it until you become pregnant). Once pregnant, transition to a Premama Prenatal Vitamin. If your cycle is regular, begin on day 1 of your cycle. If your cycle is irregular, begin right away or at any point in your cycle.

Fertility Support For Him: Take for 3 months (the time required to nurture new sperm to maturity), or until conception occurs.

*Always consult your healthcare provider prior to beginning any Fertility Supporting Supplement
Great for...
Let's dive into Balance:

Chasteberry promotes circulation, helping your uterus fully shed its lining during each menstrual cycle.*
Iodide: The natural form of mineral Iodine. Crucial for the body to be able to achieve hormone balance. Iodine is found in every cell in our bodies and is especially concentrated in our endocrine glands.
Magnesium: A major mineral key for reducing stress. It may improve insulin resistance, and helps you sleep better (all crucial functions for hormone balance). By supporting the COMT enzyme (catechol-o-methyltransferase) in the liver, magnesium promotes the healthy excretion of estrogen.*
Selenium: Beneficial for proper thyroid function + immune health. Helps in the removal of free radicals from the thyroid.*
Vitamins C and E: Naturally rid your body of toxins, jump-starting the natural detox process of your liver to eliminate the excess synthetic birth control hormones: estrogen and progestin.*
Helps cleanse excess hormones from the uterus and thicken the uterine wall creating the optimal environment for implantation.

Fertility Support for Her Drink Mix:

Contains Myo-inositol, Folate + the Methylated form of Vitamin B12 (Methylcobalamin) clinically proven nutrients that optimize your chances of conception.*

Fertility Support for Him Drink Mix: Supports healthy sperm formation, shape and function while increasing male libido.*
!
"Create a morning routine with your partner, take turns making delicious breakfast smoothies that include your vitamins (make sure you don't accidentally mix them together 😉)."
Key Ingredients
Your unique parenthood journey needs and goals are addressed with a curated selection of our ever-growing list of natural active ingredients.
Chasteberry
Choline
Folate
Selenium
*Do not use this product if safety seal on flap is torn or missing.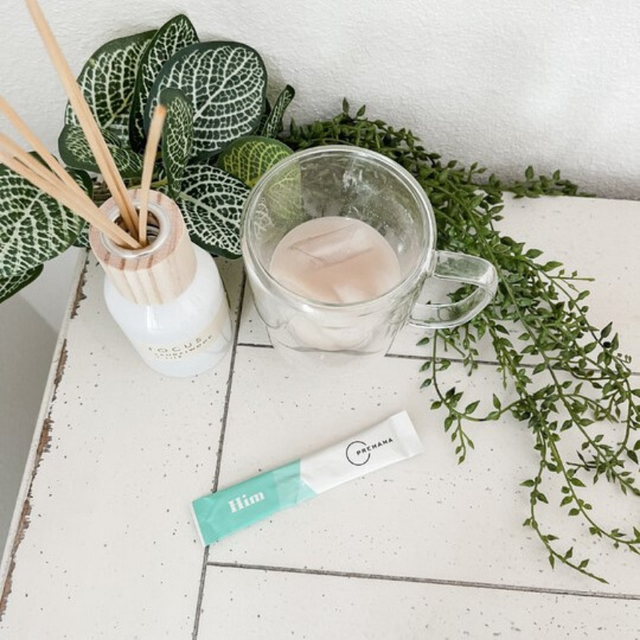 Pair Vitamins
for Better Results!
Dual Conceive Bundle pairs well with Energy Boost and Prenatal Vitamins because doctors recommend taking a Prenatal Vitamin for at least 3 months prior to conception. Doctors also recommend limiting caffeine consumption to 1 cup of coffee or caffeinated tea daily, therefore Energy Boost is a great alternative.
Energy Boost Drink Mix*
Regular price

One time for $24.99

Subscribe and Save 20%: $19.99

Subscribe and Save 20%: $19.99

Sale price

One time for $24.99

Subscribe and Save 20%: $19.99

Subscribe and Save 20%: $19.99
Prenatal Vitamin*
Regular price

One time for $34.99

Subscribe and Save 20%: $27.99

Subscribe and Save 20%: $27.99

Sale price

One time for $34.99

Subscribe and Save 20%: $27.99

Subscribe and Save 20%: $27.99
Frequently Asked Questions
When should I start taking Premama Balance?
Premama recommends taking Balance on the first day of your menstrual cycle. Should you start at a different point, it is not harmful.
How long should I take Premama Balance?
Premama Balance should be taken for 28 consecutive days during all phases of your cycle. Many women do take multiple cycles of the cleanse, especially those coming off of hormonal birth control such as the birth control injection. Studies show it can take up to 10 months or more for cycles to regulate when coming off of the birth control injection because the shot suppresses the natural production of hormones. The cleanse will work with your body to assist in this hormone regulating process.
How does Premama Balance work?
To learn all about how our cleanse works, check out this blog post.
Can I take this even if I am not trying to get pregnant just yet but still want to balance my hormones coming off the pill?
Yes, you sure can! Premama's Balance is designed for all women looking to balance their hormones after coming off birth control.