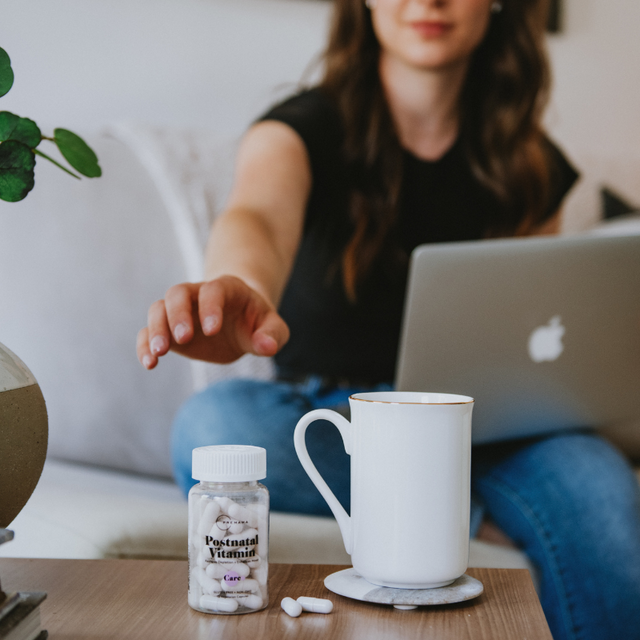 Description
Taking care of yourself might be the last thing on your mind when you've got a newborn to care for. We've made it easy for you to restore and replenish the nutrients in your body with this comprehensive Postnatal multivitamin. Our postpartum multivitamins are packed with everything you need to promote healing and recovery so you can thrive in early motherhood.* The way you care for your postpartum body will impact your health for the rest of your life. We know it's hard, which is why we're taking the burden off you and putting your nutrition in our hands.

If you need vitamins to help fight symptoms of postpartum depression, look no further.* Expertly formulated with our team of Medical Advisors, this natural postnatal vitamin uniquely works to ease postnatal depletion, improve energy, cognition, and mood, and ensure your breast milk is fortified with essential nutrients to boost nutrition.* Transition from your prenatal vitamin as soon as your little one is born and continue use throughout the 4th trimester.
Directions
For use after pregnancy for recovery after giving birth.

Take two capsules daily and give yourself a pat on the back. You are rocking this motherhood thing.
Great for...
Powerhouse nutrient Pyrroloquinoline quinone (PQQ) improves focus, memory, and alertness.*

With higher amounts of A,C,D,K, thiamin, niacin, K1, Calcium, Magnesium, and B Vitamins, this will nourish and replenish your body after giving birth, enhance breastmilk nutrition, and keep up with increased energy demands throughout your postpartum period.*

Our Postnatal Vitamin features patented Saffserene® which is clinically shown to enhance mood and help ease postpartum blues.*
!
"Our Postnatal Vitamin can be paired with our Lactation Support Drink Mix for those looking to increase their milk supply."
Key Ingredients
Your unique parenthood journey needs and goals are addressed with a curated selection of our ever-growing list of natural active ingredients.
Chelated
DHA Algae Based
Folate
PQQ
Selenium
*Do not use this product if safety seal on flap is torn or missing.
Pair Vitamins
for Better Results!
Our Postnatal Vitamins pairs well with Lacation Support and Energy Boost. If you are breastfeeding, or planning to, Lactation Support is for use after pregnancy to fortify, help establish or increase your milk supply. Energy Boost is a pregnancy-safe way to boost energy without the caffeine. It can be taken before, during, and after pregnancy.
Lactation Support Drink Mix*
Regular price

One time for $19.99

Subscribe and Save 20%: $15.99

Subscribe and Save 20%: $15.99

Sale price

One time for

$19.99

$24.99

Subscribe and Save 20%: $15.99

Subscribe and Save 20%: $15.99
Energy Boost Drink Mix*
Regular price

One time for $24.99

Subscribe and Save 20%: $19.99

Subscribe and Save 20%: $19.99

Sale price

One time for $24.99

Subscribe and Save 20%: $19.99

Subscribe and Save 20%: $19.99
Frequently Asked Questions
How long should I take Postnatal Vitamin for?
Postpartum recovery timelines differ for all women. We recommend taking this supplement for at least 3 months to see optimal benefits. Did you know it can take years for your body to fully recover post-delivery? For women who have given birth multiple times (especially within a period of 3 years) this compounds recovery time.
Why should I transition from a prenatal vitamin to a postnatal vitamin?
We like to use the phrase: "You wouldn't use your car keys to open the front door to your house." Your prenatal vitamin is intended for just that: supporting preconception and pregnancy. The nutrients in your prenatal vitamin help support baby's growth. The nutrients in our Postnatal Vitamin support your physical and mental recovery postpartum. Check out this blog post: Prenatal vs. Postnatal: What's the Difference?
What is postnatal depletion and do I have it?
To learn more about postnatal depletion, check out this blog post. We always recommend speaking with your healthcare provider for all medical advice.
Can I take the Postnatal Vitamin and Lactation Drink Mix together?
Yes, you can so long as your doctor approves as they have different benefits!