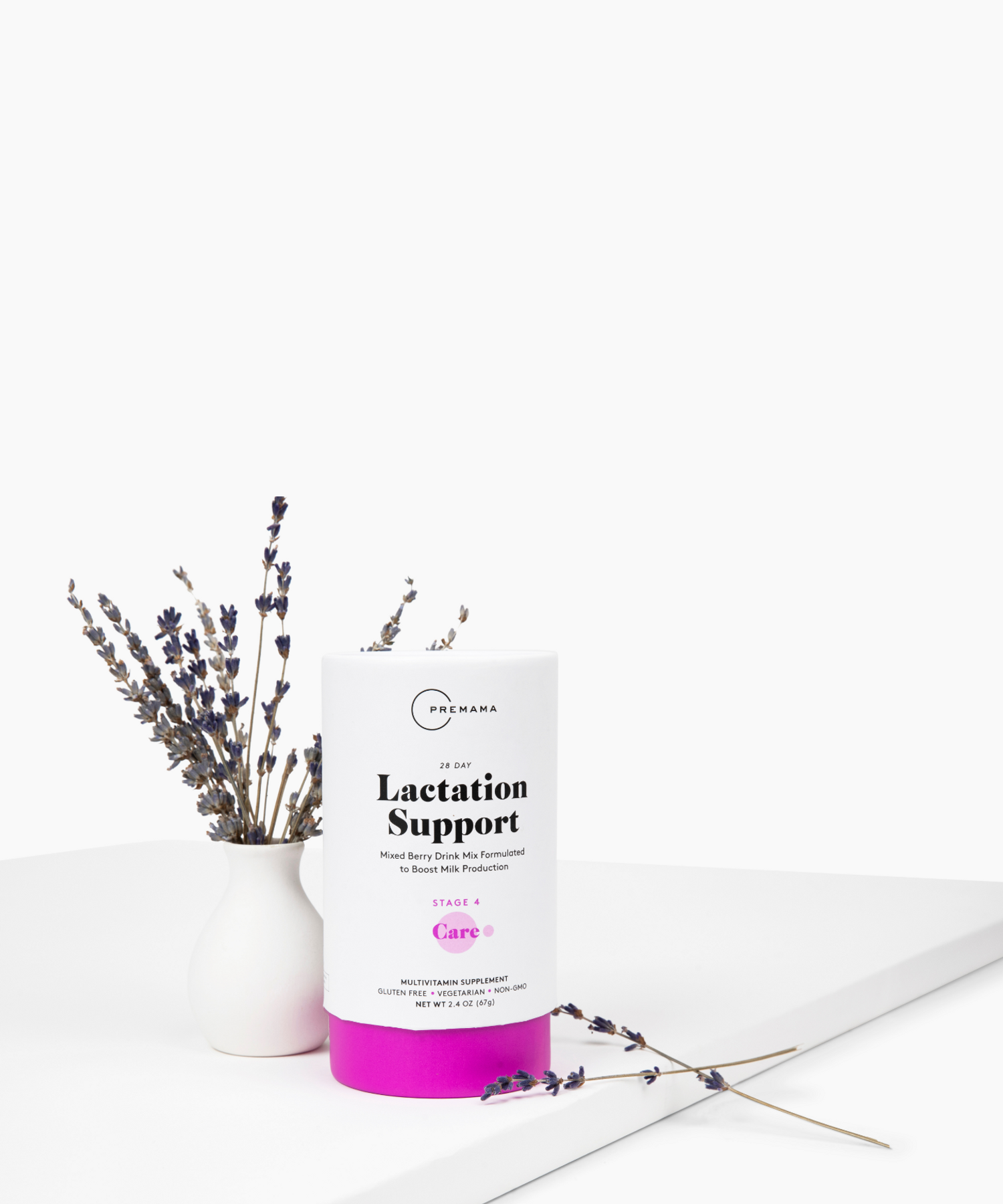 Supplement Facts
WARNING: DO NOT TAKE PREMAMA LACTATION SUPPORT WHEN PREGNANT. PREMAMA LACTATION SUPPORT IS RECOMMENDED FOR POSTNATAL USE ONLY.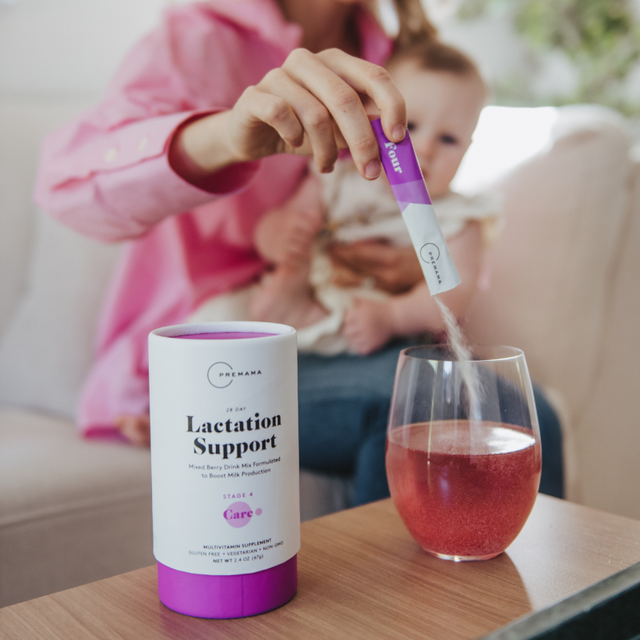 Description
A postnatal breast milk supplement designed to help support healthy breast milk production.* It's great to have on hand when your baby is born and your milk comes in, or during those times when you're pumping and your supply is depleted.* Our lactation supplement drink mix is gluten-free, non-GMO, and vegetarian, with a natural berry flavor. This milk supply supplement is to be paired with our Postnatal Vitamin.
Directions
For use after pregnancy to help support healthy breast milk production.

Mix one packet per day with at least 12 ounces of water or any non-carbonated beverage.
Great for...
It's specially formulated with fenugreek, fennel seed, and blessed thistle, which have been used for generations to help support normal breast milk supply, and work best when taken together.*
!
"Take the sachets with you for an easy, on-the-go lactation support supplement!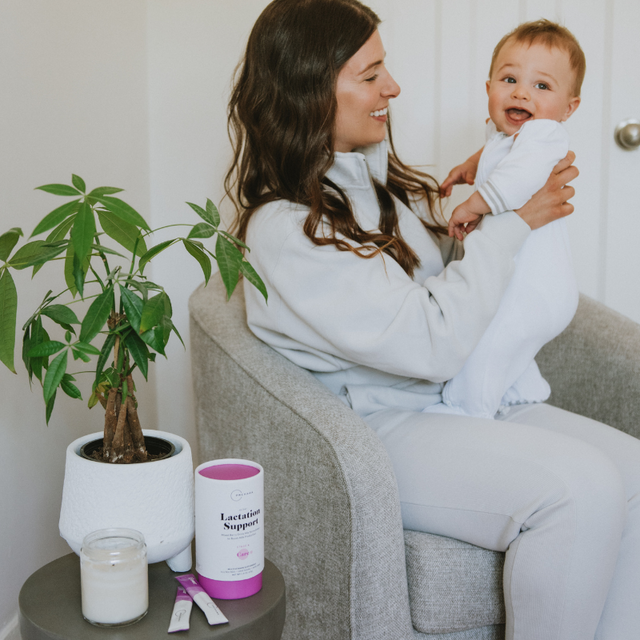 Pair Vitamins
for Better Results!
Lactation Support pairs well with our Postnatal Vitamin and Energy Boost. Our Postnatal Vitamin is formulated with specific nutrients to support your body and postnatal nutritional needs postpartum. Energy Boost is a caffeine-free multivitamin drink mix that provides a boost of energy without the caffeine. It can be taken before, during, and after pregnancy.
Frequently Asked Questions
Can I use Premama Lactation Support during my pregnancy?
No. Premama does not recommend taking Premama Lactation Support while pregnant. The ingredients Fenugreek, Red Raspberry Leaf Powder and Blessed Thistle are not deemed safe for pregnancy by the National Institute of Health.
What is Fenugreek?
Fenugreek is a plant that belongs to the pea family. The seed produced by this plant is commonly used in cooking and as an herbal remedy. Historically, Fenugreek has been used to induce childbirth. Although there has been little research into this claim, the National Institute of Health recommends that women "use caution" if consuming the herb while pregnant. However, Fenugreek is also commonly used to support normal breast milk production. It is completely safe to consume while lactating.
What is Blessed Thistle?
Blessed thistle can be taken to help support a normal breast milk supply. It works best when combined with fenugreek and fennel seed. For the best results, breastfeed more often or pump after or between feedings while you're taking this herb. Blessed thistle, or any herb, is more likely to work when there's an increase in breast stimulation. Even though it is considered safe to use while you're breastfeeding, blessed thistle should not be taken during pregnancy. Blessed thistle is a uterine stimulant that can cause contractions.
How does Premama Lactation Support help to fortify breast milk?
A mother's breast milk is nature's way of providing nutrients to your baby. Premama Lactation can't even compete with what you can do yourself! The goal of Premama Lactation is instead to enhance what your body naturally makes with Vitamin D3 and Calcium. According to the Centers for Disease Control and Prevention, "…breast milk alone does not provide infants with an adequate intake of vitamin D." Breast milk contains only 25 IU of Vitamin D, while the recommended intake for infants is 400 IU. Premama Lactation contains 800 IU of Vitamin D3 to help your baby meet this requirement. Folic Acid and Calcium also help fortify breast milk to ensure that your newborn has all that it needs to grow up healthy and strong.
How does Premama Lactation Support Drink Mix help with breast milk production?
Premama Lactation contains a proprietary blend of special herbs: blessed thistle, fennel seed, fenugreek, and red raspberry leaf powder. These herbs are known to help support normal breast milk production. Researchers found that lactating mothers who used these herbs in moderation had to supplement with formula less often than mothers that took a placebo, and their babies tended to gain more weight. For more in-depth information on boosting your milk supply, visit our blog post.
Should I consult with my doctor prior to using Lactation Support?
Yes, it is recommended before taking any supplement that you consult with your physician first.